Leasing a bus can offer a variety of benefits for businesses or organizations that is looking for a mobile medical vehicle but may be on a tighter timeline. 
One of the primary advantages is lower upfront costs compared to purchasing a specialty vehicle outright, which can free up capital for other investments. Additionally, the turnaround time for consideration to picking up the specialty vehicle is typically quicker with leasing than with purchasing. This can be especially beneficial for organizations that need to quickly add to their fleet or supplement your program. Furthermore, we offer flexible leasing terms, allowing businesses to choose the length of the lease that best fits their needs.
Vehicles available for lease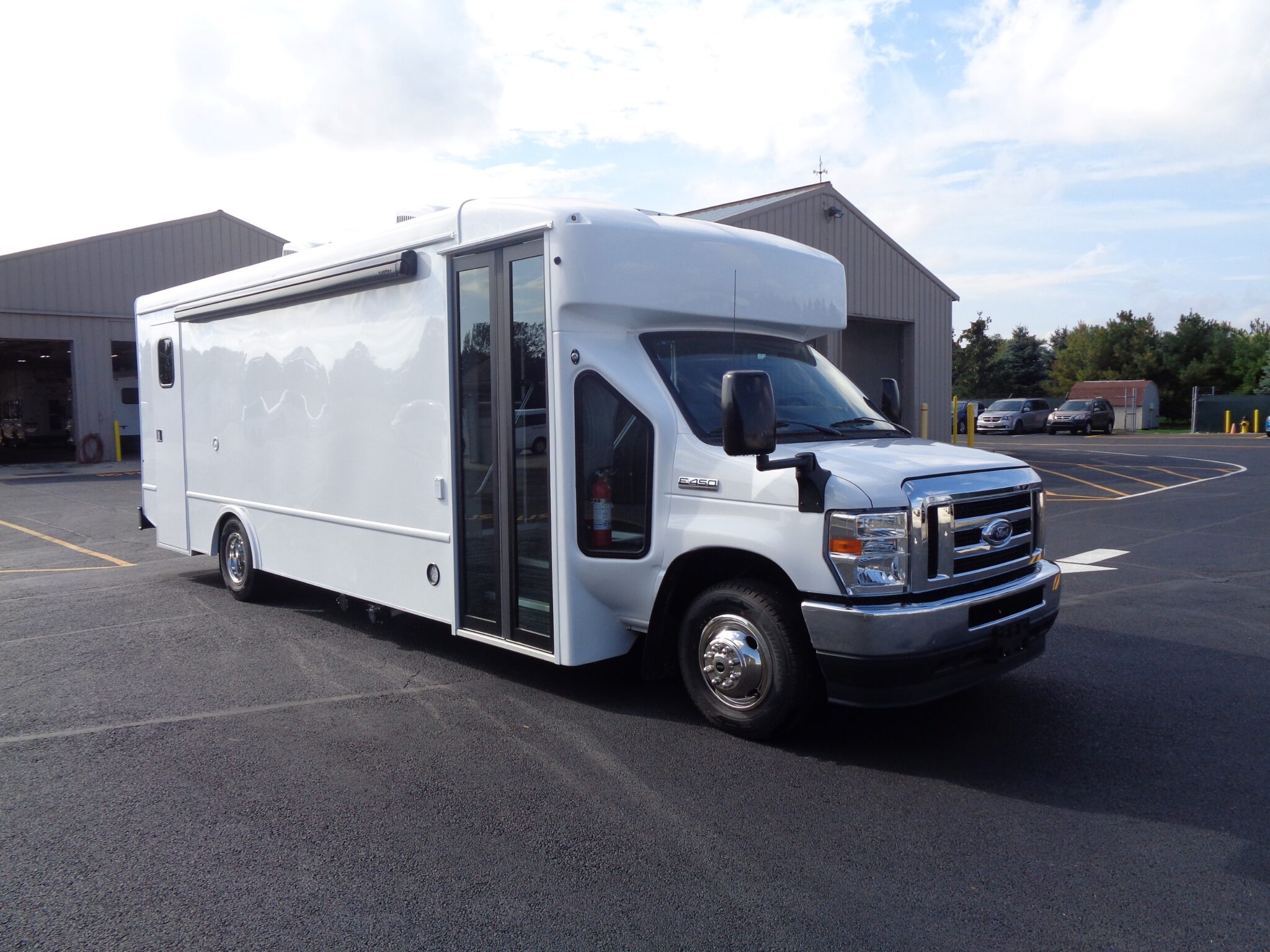 30FT THREE ROOM ADA MOBILE MEDICAL CLINIC
How the Leasing Program Works
When it comes to specialty vehicles, every requirement is unique. The process begins with a discovery call, where your specific needs and preferences are discussed in detail. Once the requirements are understood, the next step is to discuss the terms of the agreement, including lease duration, payment structure, and any additional considerations. Afterward, various options are explored to ensure you find the most suitable solution. This involves considering different models, features, and amenities that align with your needs.
Once the desired option is selected, the application process begins, including a thorough review of eligibility requirements. This step ensures you meet the necessary criteria for the lease. During this process, information about insurance coverage, maintenance services, and any other benefits included in the lease is provided, ensuring you have a comprehensive understanding of the services available to them.
My experience with TESCO Specialty Vehicles and their leasing program was incredibly positive. The team showed a deep understanding of my business needs, provided a seamless process, and their transparency and professionalism instilled a high level of trust. TESCO SV's top-notch quality buses, maintenance standards, and customer support made the leasing experience exceptional, and I wholeheartedly recommend their services.
Josh, Director of Global Logistics
why choose our leasing program?
When choosing a leasing company, reputation and experience in the industry are crucial factors to consider. TESCO Speciality Vehicles has a long-standing presence in the industry with established strong relationships with customers, suppliers, and partners. Lastly, we offer competitive lease pricing and flexible terms to meet the needs of their clients.
Get Started with TESCO Specialty Vehicle
At TESCO Specialty Vehicle, we are committed to providing proven quality and unmatched customer service as a trusted dealer in the industry. As one of the largest dealerships handling new and used specialty vehicle sales in the nation, we have built a reputation for excellence that you can rely on.
Contact us today to learn more about our leasing program and start making a difference in a TESCO Specialty Vehicle